Auxiliary Equipments
Equipments introduction:
1. Polymer Dosing system (two types)
The function of Polymer Dosing System is to make the flocculants of powder or liquid dissolve or dilute into flocculants solution
1.1 Manual dosing device
Artificial feeding, suitable for polymer feeding with small quantity, and there is operator at site. Easy artificial feeding, convenient installation.


1.2 Integrated polymer dosing device
TECHANGE Fully Automatic Polymer Dosing System is to dissolve or dilute the powders such as PAM or PAC etc into flocculants solution.
Advantage:
Full-automatic.

Customerized design for size, capacity, etc to meet all kinds of requirements

low polymer consumption

automatic polymer and water feeding

accurate concentration

SUS304/PP crust, all imported parts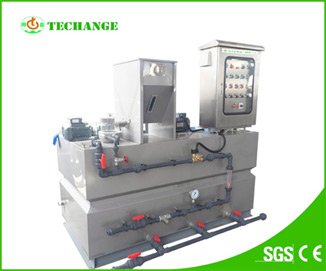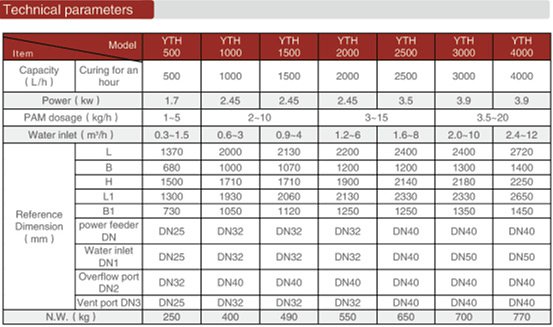 2. Sludge conveying device (two types)
2.1 WLS-Shaftless Screw Conveyer
Shaftless screw conveyor is a kind of non-axis conveying equipment which conveys sludge along with screw rotating. the advantages such as simple structure, sage and reliable operation, convenience usage and repair, continuum and level liquids discharging, stable pressure, it is totally enclosed for corrosive or hazardous requirements and will not cause secondary pollution.
Also they can be used to density and conveying subsistence in other fields such as waste water sludge, coal, foodstuff, flow-line production and baggage to substitute manual carry.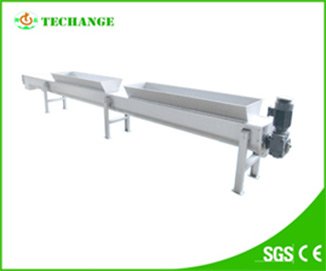 2.2 Belt type conveyor
Mainly used for conveying solid power ,screen sediment, dewatered sludge cakes etc in the sewage treatment project.
Character:
Large conveying capacity, there are two types, one is with flange ,another is without flange, can be used for long distance conveying, can also be made as mobile model for convenient transportation.

The structure is universal, easy for replacing and cleaning .

If needs to be fixed in site, the expansion bolts can be used to install and fix in site, easy installation.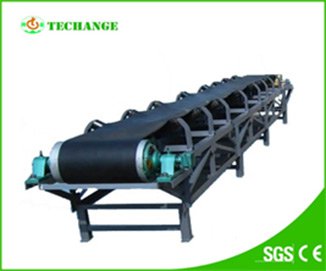 3. Grit classifier
It's a machine suitable for the separation, sorting and washing of sand present in waste water from different sources: municipal sewage, industrial or depuration of various types. For odor control the sand remaining could be washed.
Model Data: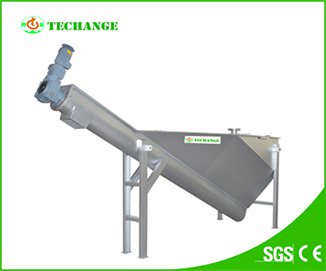 4. Sludge hopper
It's mainly used for collecting and storing the sludge during or after the dewatering .when the sludge reaches a volume, the valve under the hopper will be opened and sludge cake will be discharged to the truck directly.