For ponds and aquariums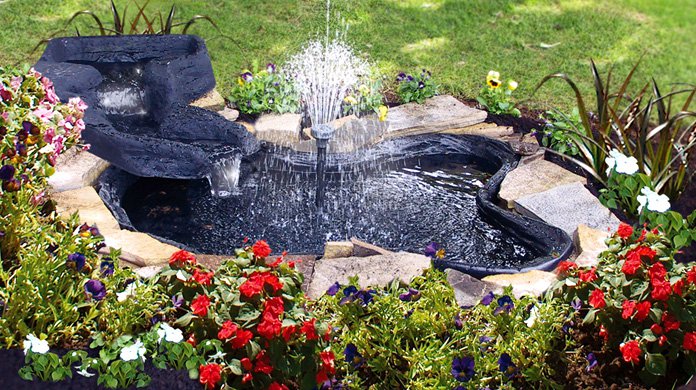 SICCE equipment (Italy)
The Italian company «SICCE» produces various equipment for ponds and aquariums. The company's products known by their reliability worldwide. Company «SICCE» pays special attention for researching and introduction of innovative technologies regularly develops and gets patent for new products, thus, ensuring leading position in the market of equipment for water bodies.
Filter line GREEN RESET in combination with pumps MASTERDW, begin a new era of service of decorative ponds. This new bio-filter ultraviolet purification system is available in two modifications - 25 liters and 40 liters - with big possibilities of filtration and small ponds. Operation principle: first, the water is passed through sponge (mechanical cleaning), through ultraviolet sterilizer (UV lamp) and then through bio block (biological filtration), that provides crystal-clear water in the pond.
Filtering fountain for pond SICCE ECO POND is popular for simple installation and simple maintenance. It helps to keep the water environment in the pond biologically balanced. Included filter, pump, water features (water bell, water lily, daisy, geyser). Perfect for dirty water ponds, ponds with fish, ready-made landscape ponds. Due to its autonomy ECO POND enough to install into the pond and plug into a socket
The line of ECO Pond, which has a very large surface area of the filter material, represented by 4 models, stocked silent, economical and powerful SYNCRA pumps.
Filtration Pumps MULTI 9000-14000-16000e from SICCE equipped with the best synchronous electric motors. Pump head can reach a height of 8 meters, and they are very economical and have the optimal characteristics that are the hallmark of SICCE products. The pumps have a high capacity, they are compact, almost silent and simple in maintenance. It can work in both dry and wet systems. Due to the synchronous motor with a permanent magnet can be used as the pumps in horticulture and in cooling water systems, swimming pools and aquariums.