Rotor blowers type «Roots» «KUBICEK» (Czech Republic)

Czech rotor blowers type "Roots" of the company «KUBÍČEK VHS» - the equipment in which the extrinsic compression of the gas atmosphere by means of two rotors with three teeth (rotary pistons). The rotors are installed along the horizontal axis in the blower body and rotated in the opposite direction. Rotary piston movement leads to the absorption of the gas atmosphere on the intake side of equipment. Gas transportation to the place of delivery, and also for it's a compression. The system is equipped with a synchronizing gear with ground helical wheel, which ensures the accuracy and fluency of rotation of the rotors also equipped to limit the no-contact space allowance for rotor operation, thus, no need to lubricate, accordingly the oil can't contaminate gas atmosphere. This is one of the reasons why "Roots" blowers of the company «KUBÍČEK VHS» are used in a very wide spectrum of industries.
Blowers and aggregates supplied by «KUBÍČEK VHS», designed as much as possible sparing for the environment: the compressible operating media not contain any oil or contaminants; specially designed cover minimizes noise.
Advantages of blowers and aggregates «KUBÍČEK VHS»:
Low noise level

Height Energy conversion efficiency

Low operating costs

Wide range of products with a detailed differentiation capacity

Possibility to use - reduced pressure, overpressure, two-step, various media, etc.

Tiered placement (one above the other)
Air Blower

The blower consists of a body with a pair of rotor pistons, two pistons on the sides and two caps with oil excipient providing lubrication of rotor piston and synchronizing of gear unit. Penetration of oil in the blower housing (conveyor medium) prevent special dynamic seal. Blowers, generally, do not require special cooling - arising heat is removed by conveyor medium and partly of the equipment surface.
Blower 3D16 – 3D38:

1) Rotor blower
2) Absorption
3) Discharge
4) E-motor
5) Base frame
6) suction silencer
7) discharge silencer
8) Air scoop
9) Check valve
10) Valve
11) Elastic bearing
12) Manometers - suction
13) Manometers – discharge

Blower 3D45 – 3D90:

1) Rotary blower
2) Suction piping
3) Discharge
4) Electric motor
5) Base frame
6) Suction silencer
7) Discharge silencer
8) Suction basket
9) Compensator to connect external suction
10) Backflow valve
11) Valve
12) Elastic bearing
13) Manometer – suction
14) Manometer – discharge

Blower 3D16 – 3D38 acoustic cover:

1) Absorption
2) Discharge
3) Upper panel of cover
4) Front panel of cover
5) Lock
6) Frame
Adjustment
In rotary blower volume flow of intake media does not depend on the pressure at the outlet. Thus, adjustment by throttling unacceptable. Changing of volume flow is performed by the way of using a multi-pole E - motor or engine, controlled by a frequency converter.
Blower Aggregate
Blower aggregate consists of blower inlet silencer with filter, discharge silencer, safety or integrated safety and start-up valve, backflow valve, intake port, electromotor, V-belt drive. The blower draws air directly from the surrounding environment or through silencer Aggregate installed on rubber supports. The blower is put in motion by E-motor with the help of V-belts. The Aggregates are equipped with standard E-motors with a choice of control by changing the number of poles or using a frequency converter. For aggregate with capacity up to 2.2 kW can be used the engine powered by voltage of 230 V.
Possible options of execution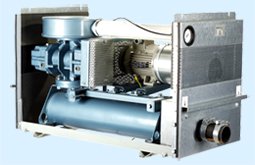 Company «KUBÍČEK VHS» is capable to offer and produce according to the customer, any blowers, regular and absolutely untypical, and also blower aggregates in accordance with individual customer requirements.
Designers of the company are ready at any time prepare for the customer solution according to requirements. Therefore, the customer can select standard product or equipment, for example, acoustic cover external intake, false air, etc.
The company offers thoughtful detailed equipment, equipped with various options of blower and aggregates with E-motors in all possible versions, measuring elements, adjustments, etc. You can choose the material from which will be manufactured equipment, mobile or stationary options execution, method of configuring - placement one above the other, or two-stage, as well as the color variations of equipment.
Installation and connection
Installation and commissioning of the blowers and blower units made by the company «KUBÍČEK VHS». Authorized installation is important for trouble-free operation of the equipment. During operation, in mechanical equipment rooms should be provided proper ventilation and air delivery for aspiration.
Operation and maintenance
All the equipment of the company «KUBÍČEK VHS» is produced with the maximum emphasis on the quality, long service life and reliability. Before shipment to the customer, equipment's are tested and passed test operation, therefore, after installation at the place of destination can be immediately put into operation. The condition for long life and proper operation of the blowers and blower units are proper maintenance and service.
Detailed information about air blowers of «KUBÍČEK» can be found on the website www.kubicekvhs.cz.